The Presbyterian Church of Aotearoa New Zealand has adopted an internship model of training for the critical task of forming and equipping people for the Ministry of Word and Sacrament.
Two key words describe the intended character of an internship: integration and partnership. Integration refers to an action-reflection model of learning; partnership refers to the recognised participation of several parties in the process of ministry formation, and most importantly the partnership between the Knox Centre for Ministry and Leadership and the parish where the intern is located.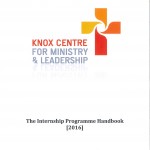 During the course of an internship it is hoped that that the intern will acquire the requisite skills and competencies for effective ministry and leadership, grow in Christian character, and benefit from a robust, inter-disciplinary study programme. Professional development and personal formation go hand in hand. To this end, interns need the opportunity to experience the various dimensions of pastoral ministry and servant mission leadership, and to integrate their understanding of what they are required to do with who they are called to be as Ministers of the Gospel.
A comprehensive outline of the internship program is available in the KCML Internship Programme Handbook 2016
The following information is provided in the form of a series of questions and answers:
1. Where will I be placed as an Intern?
The Director of the Knox Centre for Ministry and Leadership will try to secure the right Internship setting for you. We will generally try to find somewhere in your home Presbytery if that is your preference and we are satisfied that it is best for your formation. If this is not possible, we may require you to relocate to another part of the country. If this is necessary, the Knox Centre for Ministry and Leadership will pay for relocation costs.
2. When does the Internship begin?
Late February or early March. The internship is deemed to begin when you are commissioned by Presbytery as an Intern in a parish. Your Bursary payment commences at that time.
3. How many block courses will I attend over the course of my Internship?
Over the two years of your internship you will attend seven block courses, each being of 12 days duration. At least one of these block courses will be held before your Internship begins. It comprises what we call pre-Internship training, and is intended to give you some basic grounding in the theology and practice of ministry before you are placed as an Intern in a parish.
You will be paid a daily allowance during pre-Internship block courses. Attendance of these block courses is essential. Generally speaking, if you do not attend the pre-Internship block courses you will not be able to commence your Internship.
4. During the Internship, how much of my time will be spent doing actual ministry, and how much attending block courses and the like?
70% of your time will be spent in supervised ministry, normally in a parish setting, and 30% of your time will be spent in structured learning, including the attendance of the above block courses.
This means that 10 weeks over the two years will be spent attending block courses, and an average of 1.25 days a week will be set aside for doing assigned reading, working on assignments and completing other learning requirements. The remainder of your time will be spent doing ministry under supervision.
5. How many weeks holiday will I get each year?
It is acknowledged that interns will benefit from periods of recreation and this will be taken as four weeks holiday as well as observance of traditional statutory holidays (or a substitute thereof) to be taken at mutually acceptable periods in the course of each year of the internship programme.
6. What will I be doing during the block courses?
Over the course of your Internship you will be doing seven papers concurrently. Each paper will consist of seven sections, one for each block course. Each section of each paper will take a day to complete. This means that every time you attend a 13-day block course, seven of those days will be devoted to working your way through the seven papers. The other six days will be spent doing Intensives (day-long seminars on specialist topics), attending retreats, and participating in a range of other learning and community-building activities.
7. Where will the block courses be held?
Unless you are told otherwise, you can assume they will be in Dunedin at the Knox Centre for Ministry and Leadership, which is located at Knox College (Arden Street in Opoho).
8. What do I do about travel and accommodation for block courses?
Flights should be booked through the Assembly Office as early as possible to take advantage of discounted prices. Phone or email Sandra Homan at the Assembly Office (04-8016000).
If you travel by car, you will be paid a mileage allowance.
If you do not know anyone to stay with while you are attending a block course, we will try to arrange billeted accommodation for you through one of the local churches. Failing this, we will book you into a Hall of Residence or local motel at our expense. If you are happy to pay for the motel yourself, you are most welcome to make this your first option. Just let us know.
9. What are the major papers I will be doing?
1. Theological Reflection

2. Worship: Reformed and Reforming

3. Transformational Preaching

4. Congregational Leadership

5. Missional and Emerging Churches

6. Pastoral Ministry

7. Presbyterian and Reforming Christianity
Intensives include: Maori Foundations, Asian and Pacific Ministries, Rural ministry, Urban ministry, Faith and Work.
10. What books will I need to buy?
All major papers have a required text or texts. These have been chosen not simply on the basis of what is needed to get you through the course, but also on the basis of what we believe will be very good resources to use when you are in ministry. Some papers have readers (a selection of photocopied articles and other resources) for which you may be charged to cover photocopying and binding costs.
11. How will supervision and feedback on my ministry work?
In consultation with you we will arrange for someone to be your supervisor. In most cases it is likely that the supervisor will be an ordained Minister in your Presbytery, but not the Minister of the church where you are located. The supervisor will meet with you weekly to talk about how things are going, help you reflect on what has been happening the past week, talk about upcoming events and commitments, and offer general encouragement, advice and support.
In addition to the above, you will have a Ministry Reflection Group, consisting of three or four people you have chosen from within your parish, meeting with you monthly to offer constructive feedback on various aspects of your ministry. They will tell you, for example, how well you are communicating in and through your sermons.
12. How much will I be paid as an Intern?
You will be paid $45 a day while you attend your pre-Internship block course(s). Once the Internship begins in you will receive a tax-free Bursary amounting to 80% of the Basic Minimum Stipend paid to Ministers in the Presbyterian Church. For 2008, This amounts to around $31,300.
In many cases the Bursary will need to be supplemented by other sources of income, especially where the Intern has a dependent family. In some cases this might be achieved through the income of a spouse who is in paid employment. In other cases it might be achieved through eligibility within the family for certain benefits and income support from the Government. Please contact the Registrar at the Knox Centre of Ministry and Leadership if you need advice or help in this area. The Centre has at its disposal a discretionary fund to provide limited assistance to those experiencing financial hardship. This usually takes the form of a relatively small one-off grant.
Ministry students are covered by the life insurance provision of the Beneficiary Fund, to which all Ministers of the PCANZ contribute from the date of their ordination. If a student dies during his/her ministry training, his/her spouse and dependants qualify for the family benefits, even though the student would not have started contributing to the Fund. In such cases, the spouse receives a lump sum, a funeral benefit and an annuity, and dependent children receive an allowance.